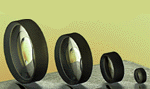 [Special request...]
[...Any optical components...] can be manufactured with our material ( glass, etc)or, if you provide the material, the price could be much lower, especially if we make a contract.
[...Special optical components...] are available on special requests, even in small or large quantities.


Important discounts for larger orders!

[...Our specialists...] in optics, electronics, electro-optics and fine mechanics are ready to solve any design problem in these fields of activity. We are well-skilled in CAD design. Any optical design is optimized on ZEMAX-EE Optical Design Program, one of the most performants in the World. We can design and manufacture for you magnifiers of all types, microscopes, riflescopes and special equipment, such as night vision systems ( with 2-nd or 3-rd generation image intesifiers), laser range-finders, pointers, etc.
[...Our links...] in whole Eastern Europe allow us to offer, on request, the most difficcult to find elsewhere optical components made of rare crystals, optical materials such russian optical glasses of very good quality at very low prices, special glasses, quartz and sapphire crystals, etc. And all these on large quantities or only few pieces, for OEM manufacturers.
[...Also...] we can secure for you some incredible good quality parabolic telescope mirrors, with diameters between 100-400 mm, different focals and surface accuracy up to 1/20 waves!
Please feel free to ask about ANY optical components or systems you need! Our staff of specialists is ready to analize your needs and to find the quickest and cheapest way to please you!